and support access to justice in Texas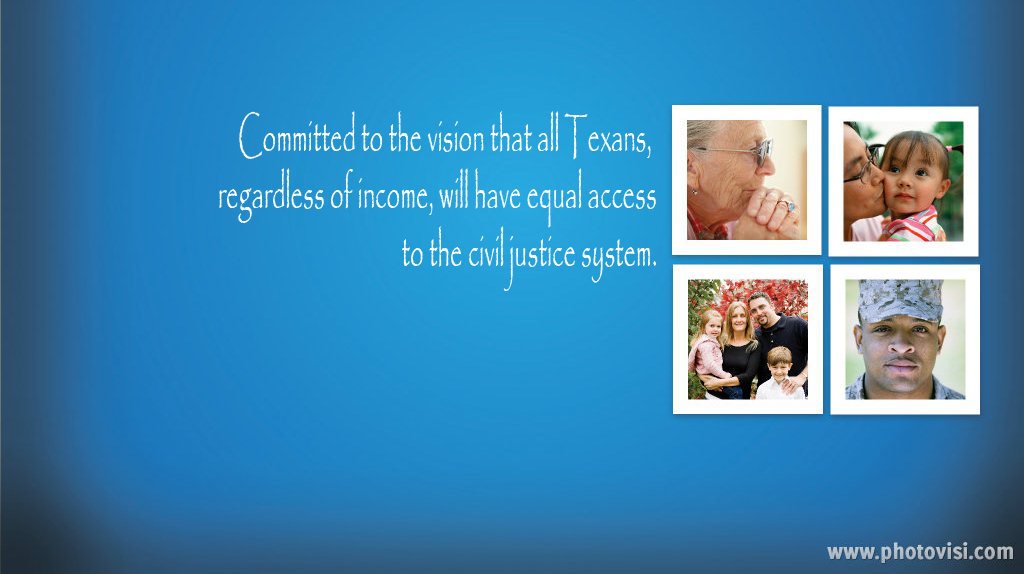 to increase IOLTA revenue for legal aid


The Texas Access to Justice Foundation
is the leading funding source for legal aid in Texas. We are committed to the vision that all Texans, regardless of income, will have equal access to the civil justice system.
With TAJF funding, legal aid organizations provide assistance in civil matters to more than 150,000 low-income Texas families each year.
Watch a video
Latest updates on Facebook
News from the Foundation
Recent News

June 10, 2019
Texas Capital Bank Joins Prime Partner Program
April 15, 2019
MidSouth Bank Joins Prime Partner Program
April 5, 2019
Sexual assault is more common than you think - by Justice Eva Guzman - Houston Chronicle
April 4, 2019
Legal Aid Provides a Lifeline for Victims - by Betty Balli Torres - Austin American-Statesman
Dec. 18, 2018
Victims of Domestic Violence and Sexual Assault Have Legal Aid Resources Available During the Holidays
Dec. 2018
Access to Justice For All Texas: 2018 Year-End Report
Nov. 15, 2018
Perla Cavazos Appointed to TAJF Board of Directors
Nov. 7, 2018
Texas Veterans Legal Aid Week is Nov. 11-17
Oct. 18, 2018
Texas Rep. Oscar Longoria Honored with Legislative Hero Award
Sept. 10, 2018
Texas Brand Bank Joins Prime Partner Program
Sept. 5, 2018
Austin Capital Bank Joins Prime Partner Program
July 9, 2018
TAJF Proud to Join Equal Justice Works to Fund Disaster Legal Corps
June 29, 2018
Foundation Establishes Randy Chapman Fellowship to Impact Legal Aid in Texas
June 19, 2018
Foundation Creates Families in Crisis on the Border Legal Aid Fund
March 27, 2018
Foundation Creates David Hall Fellowship to Increase Legal Aid in Southwest Texas
Jan. 24, 2018
TAJF Executive Director Named "Distinguished Lawyer"