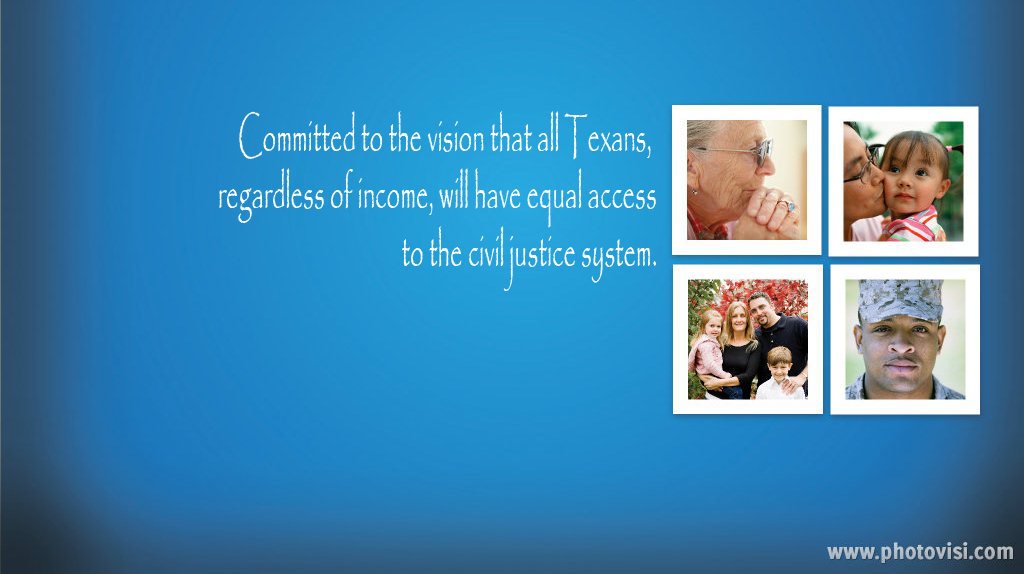 Funding 11 organizations throughout the state


The Texas Access to Justice Foundation
is the leading funding source for legal aid in Texas. We are committed to the vision that all Texans, regardless of income, will have equal access to the civil justice system.
With TAJF funding, legal aid organizations provide assistance in civil matters to more than 100,000 low-income Texas families each year.
Watch a video
Latest updates on Facebook
News from the Foundation
Recent News

Nov. 10, 2014
Nov. 10-14 is Texas Veterans Legal Aid Week
Nov. 6, 2014
Texas Vets Deserve Access to Justice System - Fort Worth Star-Telegram
November 2014
November is Prime Partner Bank Recognition Month!
Oct. 30, 2014
LSC's 15th Annual Technology Initiative Grants Conference coming to San Antonio in January 2015
Oct. 20, 2014
Pro Bono Week Celebrated at Texas Access to Justice Luncheon
Sept. 12, 2014
TAJF Announces Grants for Veterans' Legal Services
TAJF Announces Grants to 30 Nonprofits for Civil Legal Aid
Sept. 3, 2014
Statement from the Chair on Bank of America Settlement, Funding Legal Aid
July 31, 2014
Free Statewide Legal Services to Be Available Remotely on Texas DACA Day
July 1, 2014
Justice Guzman to lead Court's Access to Justice Efforts
June 6, 2014
Texas DACA Day to be Held Aug. 16
March 10, 2014
Growing Number of Texas Lawyers are Banking on Justice - Public News Service
Jan. 30, 2014
TAJF Honors William O. Whitehurst for Efforts in IOLTA Program's Beginning
Jan. 17, 2014
TAJF Marks 30th Anniversary, Joins With LSC For Panel, Texas Pro Bono Service Awards
January 2014
TAJF Turns 30 this year! See information about our Anniversary Kickoff Event, Jan. 23
December 2013
Read about "Success Stories" 2013 and how you can help TAJF write new stories