35th Anniversary Dinner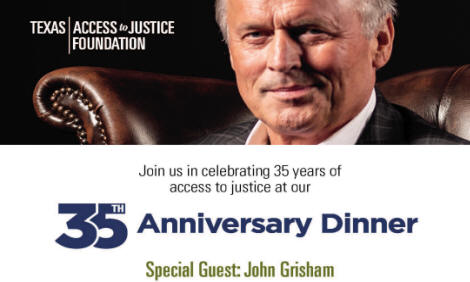 October 25, 2019 | Fairmont Austin Hotel
6 - 7 p.m. Reception | 7:15 Dinner
Honorary Co-Hosts
Hon. Wallace B. Jefferson
Hon. Thomas R. Phillips
Event Co-Hosts
Richard L. Tate, Chair
Hon. Deborah Hankinson
Denise Scofield
Travis Torrence
Carlos M. Zaffirini, Jr.
Host Committee
Benny and Nikki Agosto
Hon. Gina Benavides
Talmage Boston
Hon. Scott Brister
Carlos Eduardo Cardenas
Deborah L. Cordova
Hon. Craig Enoch
Hon. Raul A. Gonzalez
Michael P. Heiskell
Angelica M. Hernandez
Hon. Philip W. "Phil" Johnson
Mike Lowenberg

Steve McConnico
JoAnn Merica
Hon. David Medina
Harriet Miers
Karen Neeley

W. Frank Newton
Hon. Harriet O'Neill
Terry Tottenham
Hon. Dale Wainwright
S. Scott West
Bill Whitehurst
Become a Sponsor of the 35th Anniversary Dinner

Download Sponsorship Oppportunities (in PDF) or contribule online through PayPal at:


If you are not able to attend the event, but would like to make donation:



S P O N S O R S

GUARDIAN

VISIONARY
PATRON
STEWARD
| | |
| --- | --- |
| | |
| | |
| | |
| Hon. Jane Bland & Doug Bland | Harriet Miers |
| Insurance Law Section | Appellate Section |
| | |
FRIEND
Alexander DuBose & Jefferson LLP
Baylor Law School
Catholic Charities of Dallas, Board of Directors
Consumer & Commercial Law Section
Criminal Law Section
Dentons
Dillon Law
Duggins Wren Mann & Romero, LLP
Gibbs & Bruns LLP
Giles Aseron PLLC
Michael P. Heiskell, Attorney at Law
Hispanic Issues Section
Houston Bar Foundation
Independence Title Company
Johnston Tobey Baruch PC
McGinnis Lochridge
The Messina Group
PlainsCapital Bank
Poverty Law Section
Regina Rogers
Denise Scofield
Scott Douglass & McConnico LLP
Law Office of Diane St. Yves, PLLC
Texas A&M University School of Law Legal Clinics
Travis Torrence
Whitehurst Harkness Brees Cheng Alsaffar Higginbotham & Jacob
Women and the Law Section
To learn more about the event, please call: 512-320-0099.



Recent News

Sept. 12, 2019
David Insley Awarded Randall Chapman Fellowship
Aug. 12, 2019
John Grisham Will Be Special Guest at TAJF 35th Anniversary Dinner
June 10, 2019
Texas Capital Bank Joins Prime Partner Program
April 15, 2019
MidSouth Bank Joins Prime Partner Program
April 5, 2019
Sexual assault is more common than you think - by Justice Eva Guzman - Houston Chronicle
April 4, 2019
Legal Aid Provides a Lifeline for Victims - by Betty Balli Torres - Austin American-Statesman
Dec. 18, 2018
Victims of Domestic Violence and Sexual Assault Have Legal Aid Resources Available During the Holidays
Dec. 2018
Access to Justice For All Texas: 2018 Year-End Report
Nov. 15, 2018
Perla Cavazos Appointed to TAJF Board of Directors
Nov. 7, 2018
Texas Veterans Legal Aid Week is Nov. 11-17
Oct. 18, 2018
Texas Rep. Oscar Longoria Honored with Legislative Hero Award
Sept. 10, 2018
Texas Brand Bank Joins Prime Partner Program
Sept. 5, 2018
Austin Capital Bank Joins Prime Partner Program