(AUSTIN, TX) – Texas Access to Justice Foundation (TAJF) Executive Director Betty Balli Torres has received the Distinguished Lawyer Award from the Austin Bar Foundation. Torres received the award during the 15th annual Austin Bar Foundation Gala, January 20, held at the J.W. Marriott in Austin.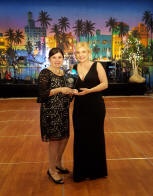 "Betty Balli Torres has dedicated her professional career to public interest work serving as an advocate for civil legal services for the poor," according to the press release.
Torres has served as the executive director of the Texas Access to Justice Foundation, the largest Texas-based funding source for legal services to the poor, since 2001. She began her career as a staff attorney at Legal Aid of Central Texas after graduating from the University of Texas School of Law. Torres has held various public-interest law positions, including executive director of Laredo Legal Aid Society, Inc., legal director of Volunteer Legal Services of Central Texas, managing attorney of Legal Aid of Central Texas, and staff attorney at Advocacy, Inc.
See the Austin Bar Gala press release.
http://www.austinbar.org/2018/01/austin-bar-foundation-honors-best-profession/